Record-setting, Property values surging, Strongest December sales ever recorded. These are some of the headlines we hear today and if you are asking what does that mean for me, you will want to stick around because that is what we will look at in this upcoming video.
2020 is one of those years that marks your life. 
Before the pandemic and after. 
I could use several adjectives, to sum up 2020 and we could look at a lot of different statistics but instead, let's look at some pictures and see what kind of a story they tell. 
First some context.
Some of you will know that I was born and raised in Abbotsford. We don't have to know when but the house my parents built at that time was a small 2 bedroom home on Mayfair ave. in what was then known as the Village of Abbotsford.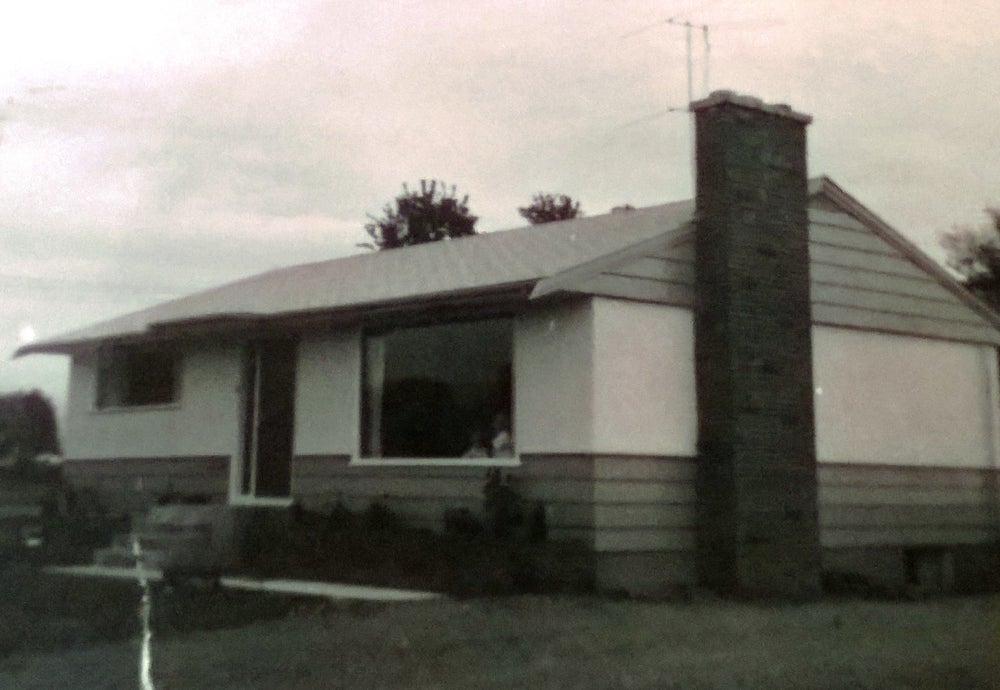 My Dad built it himself and in order to provide a home for his family, the basement was finished before the upstairs so could move in. 
It's best not to reminisce though. 
When my brother was born that made for 6 of us living in a small house so mom and dad sold it and we moved. 
That was 1964 and it sold for just under $10,000.00
Nearly 60 years later that same property is now assessed for just under $700,000.
We don't even have to do the math to know that's a big difference. 
An interesting side note is the same family kept that home until 2015 when it sold for $367,500. 
So when a person asks what's the real estate market like, it really needs to have some context in order for the answer to be meaningful. 
That little bit of my history adds the context of about 60 years to the Abbotsford market and shows Real Estate to be a great investment over time but most of us want to know what is happening now and how it affects us today. 
This First Graph shows the sales of real estate monthly for the last 15 years. 
Looks pretty volatile, doesn't it?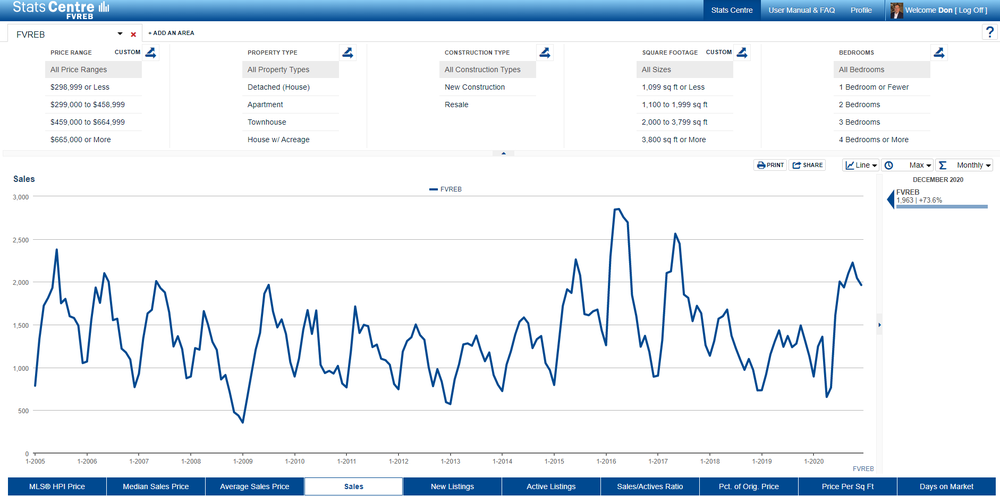 Look at each of the valleys in the graph. The time frame between each of those red circles is approximately 12 months. 
You can see that every year, the market activity picked up after the low point. The market activity begins to increase in February and then peaks around mid-year. 
Except for 2020! 
You can see this purple point that was January 2020. The trends looked Pretty normal to that point and the year started off great. As far as real estate sales go.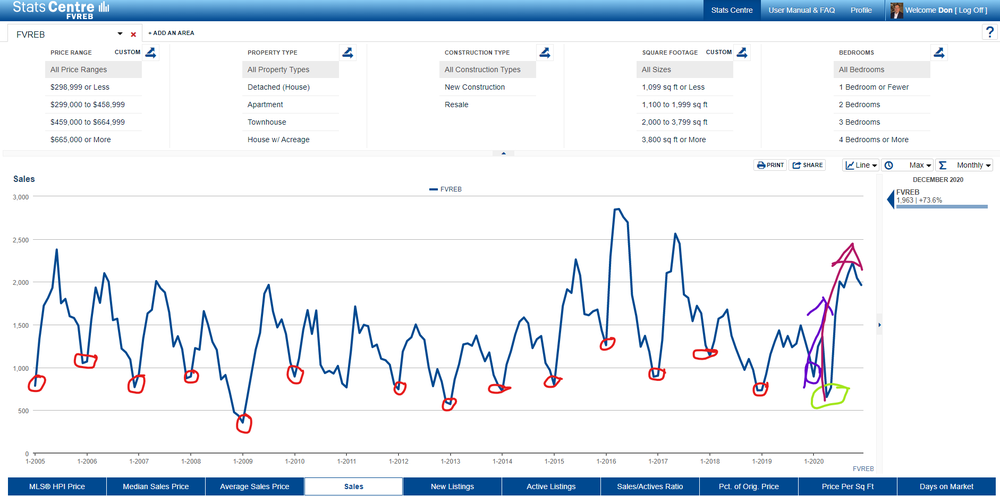 But then….. Beware the Ides of March…… Covid 19 and Down we went again. 
To be sure the dropoff was dramatic and no one knew what to expect. 
CMHC was forecasting a 20% drop in prices and made some significant changes to its lending criteria as a result. 
It didn't happen. 
Instead what did happen was our real estate market picked up steam and peaked in October. 
Just to be clear, we are talking about the numbers of house sales.   
Really who knew. In the middle of a Global Pandemic, Real estate activity takes off and we set records for activity. 
Maybe you find this interesting, maybe you don't. Maybe you are like me and you wonder why it happened. 
Here's what I think. 
Now, remember, I'm not an economist so I rely on the information gleaned from FVREB as well as from BCREA.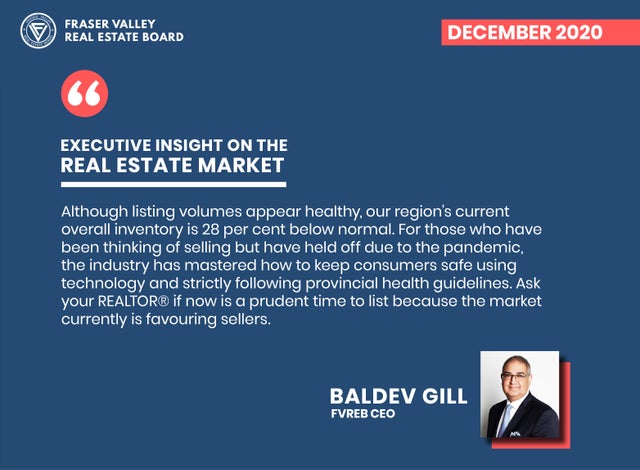 Fraser Valley Real Estate Board CEO. Mr Baledev Gill. Said
"Although listing volumes appear healthy, our region's current overall inventory is 28 percent below normal."
This is one of the key factors in all of this. And that is our level of inventory. 
While housing is essential we are currently experiencing shortages.  
This slide shows our inventory levels for the past 15 years. And the difference between each valley is again about 12 months. 
I think a more normal level of inventory would fall between the two red lines in this graph. And if you notice the low levels of inventory from 2016 to 2018 correspond pretty closely with the high levels of activity we saw in those same years.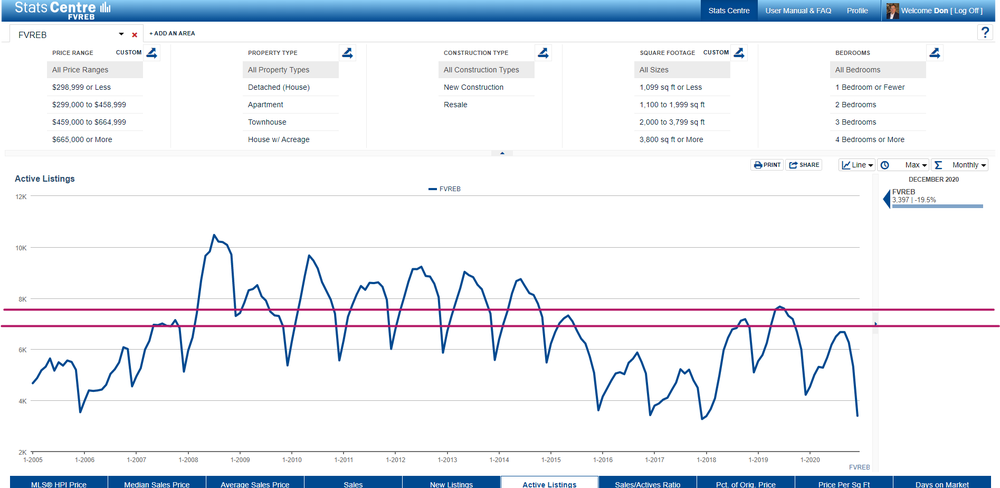 Now I hope I'm not boring you. But there is one more stat I think we need to look at. 
And this is what every homeowner wants to know. The juicy part
What about the prices? 
The most accurate measure of pricing is to use the Housing price index and when we look at this graph we see our current price levels are the highest they have ever been. 
Compare that to 5 years ago and you will see That prices have almost doubled. 
I've already taken up more of your time than intended so I'm going to stop here and in our next video we will take a look at what we think will happen in 2021. Like our page or send me a message if you are interested in knowing more about your specific circumstance,  I am happy to oblige.  
Thank you again for joining us. This is Don Goertz from RE/MAX Little Oak Realty